Red Fuji by Katsushika Hokusai
Red Fuji by Katsushika Hokusai, I remember this art by this name.
However, the proper name of this wood print is called 凱風快晴 (Gaifu kaisei) – Fine Wind, Clear Morning.  This is the work of Katsushika Hokusai who is a famous ukiyo-e painter of the Edo period (1760-1849). 
I got this printed Furoshiki as a new product, but I have some stories behind, so I would like to share them with you!
What is Furoshiki?
Furoshiki is a traditional Japanese square shaped cloth and it is used as transporting foods, bento, and everything, instead of a bag.
I wrote an article about Furoshiki, so check it out from here.
What is Red Fuji?
We call it 赤富士 Aka Fuji – Red Fuji.  The Mount Fuji is the highest mountain in Japan (3776m) and Red Fuji is a phenomenon that occurs during sunrise when the mountain shines in bright red.
Red Fuji at home in my childhood
When I was a child, we did jigsaw puzzles of Red Fuji.  I think it was over 1000 pieces and it was about 1 meter wide.  We framed this jigsaw puzzles and hung it facing the south.  My mother used to say that it brought good luck.
After we moved to our new house, my mother hung 掛け軸 Kakejiku of Red Fuji in 床の間 Tokonoma.  Kakejiku is a Japanese hanging scroll and Tokonoma is a recessed space in a Japanese styled reception room.  My mother hangs this Kakejiku with Red mount Fuji during the year except the Obon period in summer.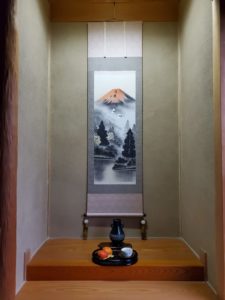 Red Fuji brings luck home?
As I mentioned above, it is said that if you hang Red Fuji in your house, it brings good luck.  This seems to come from Feng Shui and the direction of the south is 'fame' and 'beauty'.  Another theory based on Feng shui is hanging on the wall of the east. The colour red is the energy of the sun, so if you decorate something red in the east where the sun rises, you will be full of energy.
My Red Fuji at home
After I had my children, I started to think that I should decorate our flat with more Japanese ornaments to remind them of their origin.  I had been looking for Red Fuji which I can hang at home like my mother does.  Some years ago, I encountered with this Furoshiki and I fell in love with it.  I love the touch of this drawing.  It's simple but appealing.  When I was back in Malta, I took it to a frame maker to frame it.  It is more expensive to do it this way rather than buying a ready made one but I wanted something which lasts a life time so I have no regrets.  I like the softness of Furoshiki inside the frame which is different from paper prints.  I couldn't find the good location facing south or on the east wall, but it is in our living room.  Most importantly. it reminds me of Japan and I can look at the beauty of nature.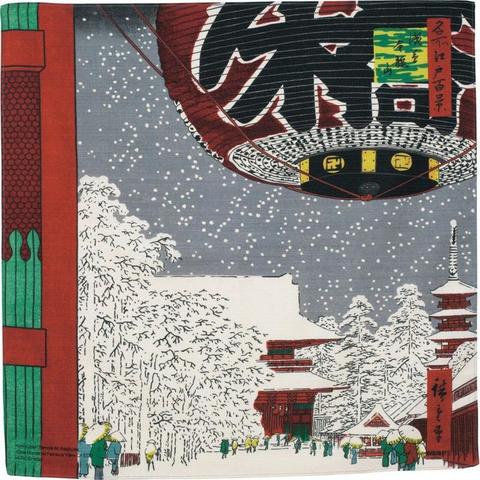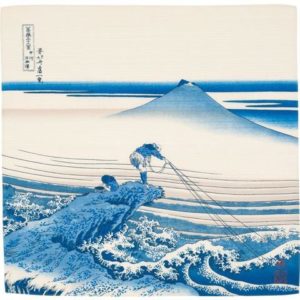 We have more Ukiyo-e Furoshiki.  Choose one or a few to display next to each other for a feature of your room!
If you would like to order a Furoshiki in a bigger size (104cm x 104cm), please get in touch with me on our facebook page 🙂