How to make Dango
My kids and I love Dango.  When my eldest tried Dango in Japan, she fell in love with them.
Since they are not sold in Malta and she missed them, she started to make them by herself by watching YouTube videos etc.
September is the season for Tsukimi – moon viewing in Japan, and we make Dango so I decided to post the recipe.
What is お月見 Tsukimi – moon viewing festival?
お月見 Otsukimi is the Japanese custom of people viewing the full moon.
Tsukimi, also called Otsukimi or Jūgoya, literally means "moon viewing."
Tsukimi is a seasonal festival to enjoy viewing the full moon on the night of August 15th, on the lunar calendar.
August 15th of the lunar calendar usually falls in mid-September of the modern solar calendar (this year 2022, it will be the 10th September).
The full moon around this period is said to be the most beautiful moon of the entire year. Tsukimi originated as a ceremony of showing gratitude to the full moon for autumn harvest.
In Japan, people decorate 'Susuki grass' and offer 'Tsukimi dango (rice dumplings)' and then view the beautiful moon.
The offerings are placed on engawa veranda or by the window so that the moon is able to recognize them as seen in the photo.
Susuki (silver grass) is believed to invite a Shinto deity and it also works to keep evil spirits away.
Activities like moon-viewing in the fall or cherry blossom viewing in the spring are examples representing a nature-loving Japanese sense of beauty.
Recipe
We love 'Mitarashi Dango' and I think that this sauce is the best for Dango!  If you like teriyaki sauce, you must like it!
When you make Dango, to make it extra special, why don't you pair with Japanese green tea?
Dangos won't match black tea nor coffee for sure!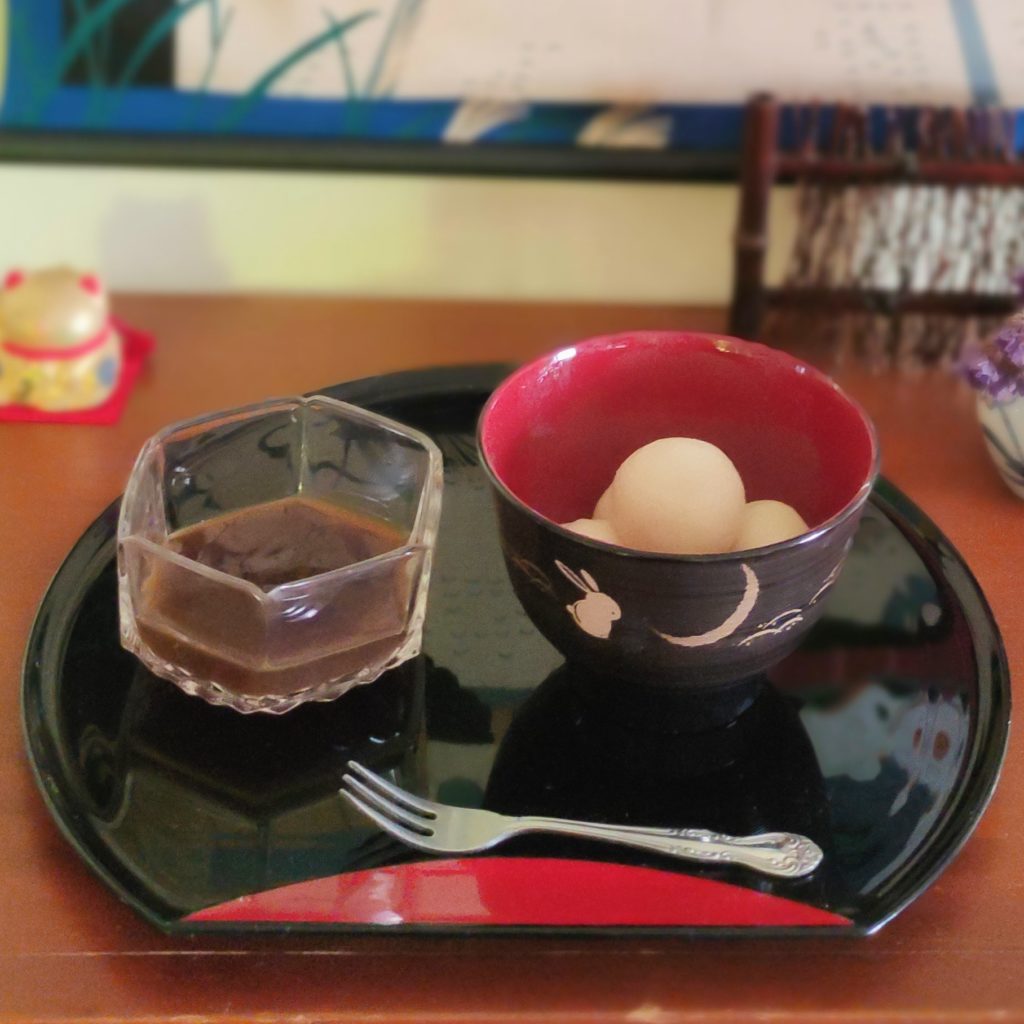 Ingredients
Glutinous rice flower: 200g
Silken tofu: 200g
Some water
<sauce>
Water: 100ml
Sugar of your choice (we used brown sugar): 3 tablespoons
Soy sauce: 2 tablespoons
Cornstarch: 1 tablespoon
Method – super easy!
1. Boil water in a deep pan (the amount you boil pasta)
2. Add silken tofu and glutinous flour in a bowl and start mixing.
3. Add water little by little to create a dough. We say soft like '耳たぶ mimitabu (ear lobe)'
The amount of water depends on how waterly the tofu is so adjust it for it to not become too wet.
If your silken tofu has a lot of water, you might not even need any water.
4. When the water is boiled, start making balls and drop them in the boiling water.  You can do this one by one
5. At first, the ball stays at the bottom, they will come up to the water surface and leave for another few minutes to take them out.
6. In the meantime, you can make a sauce.  Put all the ingredients in another pan and stir and cook on a low fire.  At first it looks white but after a while the sauce becomes brown and thicker.  Turn off the fire when the sauce becomes thick.
7. Serve Dango with the sauce.
By adding silken tofu, the Dangos do not become hard on the next day as seen the photo on the right.
My 5 year old started to like sweets (even donuts) paired with Matcha or other Japanese green tea lately and I am pleased about it 😉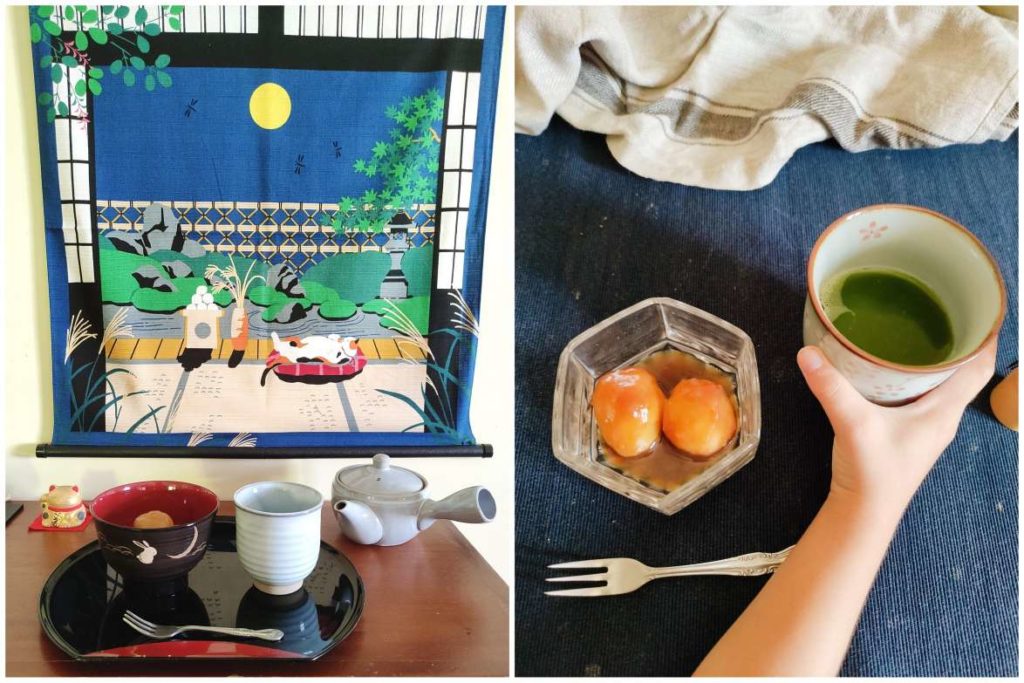 Some products associated with 'Tsukimi'
The motif of 'bunny + moon' is used from the old times in Japan. One of the reasons is that craters on the moon look like rabbits.
Here are some products on my web-shop associated with 'Tsukimi'.